This topic is for comments on my new game Alien Slayer
Steve is an agressive and violent teenager (Even tho he dont look like one =\ ) who woke up in he's house all alone. When he looked out of the window there was blood and aliens everywhere. With nothing more that a crappy butterknife to protect himself he decided to get to the village where the rest of he's familly lived and warn them before the aliens got there.
On his way he crashed his helicopter on an island where he met the weirdo, Yasmine, who was the princess of the island he bombed to hell. She decided to join Steve and together they messed up double as much as Steve did alone.
It's not so good because its only my second game. If it makes it better, the first one i made is even worse
The game link is here:
http://www.engine001.com/games/Alien+Slayer_413.htm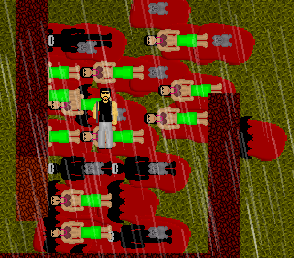 This is the first game in the Alien slayer series. It's a bit short, but im going to make another one, mabye even a third one that will be A LOT better. In the next games the weapons will fit to the level (Can't buy sword with 999 atk on lvl one
), there will be more various weapons, more different areas and events (like the go-cart thing), better opportunirties to use veichles and of course, a lot of fighting
But it takes time, so you'll have to wait
The continue on this game is here:
Alien Slayer: The Haunted Hotel [DEMO]
http://www.engine001.com/games/Alien+Slayer%3A+The+Haunted+Hotel_472.htm