Im working on my first GOOD game. It's called "The Haunted Hotel". And for those who played the first Alien Slayer, this is nothing like it AT ALL! This game is A LOT better.
The story is the same. Steve have to get to his home village and save his familly before the aliens get there. In the first game he met Yasmine, the ex princess of an island far away, and Jason, the green guy with an unknown story. They found an UFO and tried to fly to Steve's village with it, but they ran out of gas and crashed.
When they woke up they was in some weird mountain. They found out the village is on the other side of the mountain so they decided to cross it on feet.
Then they ran into a hotel thei'd never heard of before, and for some reason they stayed there over the night.
The hotel looked old, kinda amish, and there was no other people there, exept the creepy people who was working there.
Steve tried to call for help, but then he got sepperated from Yasmine and Jason.
And there it stops for now
I thought it would be cool if it was like a "Luigis Mansion" clone, where he had to get rid of the boss ghosts to get keys to different rooms in the hotel.
I got screens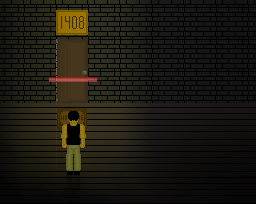 for more screenies / game download go to
http://www.engine001.com/games/Alien+Slayer%3A+The+Haunted+Hotel_472.htm
Im working on custom resources now, so the progress of the game is slow. I'll come back and update if i get some good ideas