Story---
Robird sets sail on his first day as a Pirate. He's a lowly swabbie, but everyone has to start out somewhere. He is looking for adventure in any place he can find it, but hasn't thought of the dangers he might face. And those dangers are closer than he thinks, for a few hours later a nasty storm catches the ship mid-sea.
Panic sets in as the crew can't get control of the ship. Robird begins to regret his decision to become a Pirate as the ship is overcome by a large wave. Some time passes and he wakes up to find himself washed ashore. Looking around he sees some debris from the ship. He is alone. He wonders to himself if anyone else made it to dry land. After a bit of thinking he decides it would be best if he made a shelter. He grabs the wood and metal debris and makes a makeshift axe. With this he can cut down trees for wood.
Gameplay---
Sidescrolling Survival Platform Adventure
Custom Name - The Main Character is named Robird in the story, but the player will be able to set any name they want.
Crafting System - Combine materials you find on the island to make items and tools.
Travel - As you explore, more areas open up to you. To open a new area you must travel to it through a currently unlocked area. Once the area is unlocked you can Fast Travel to it at any time.
Ability System - Learn new abilities as your score goes up. Certain areas and terrain require you know an ability to progress. Large gaps would require a longer jump. There are four that are complete so far.
Day/Night Cycle - It's more safer to explore during the day, but you may find more valuable things from enemies at night. If you make a sleeping bag you don't have to travel to your shelter to sleep and become day. There will be an on screen watch that tells time and how many days have passed since you arrived on the island.
Score System - Score is like Experience. Some areas may require a certain Score for you to access, for the enemies and challenges might be too tough. Getting a certain amount of Score raises your HP three different times allowing 6 HP total.
Tools - These can have many different uses. Use the Shovel to dig up soft patches in sand or dirt, or an Axe to cut wood.
Screens---
This shows off a New enemy called a Miner Ball, and my dirt tile set.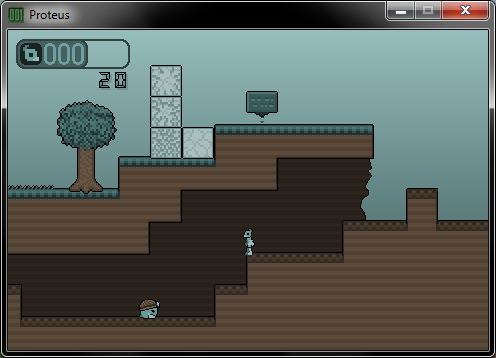 The new menu set up. Also shows a bridge, and broken bridge in the background.
Old Info---
When I first started making this game I had in mind that I wanted it to be a computer world. As I made graphics I realized that making objects for it was getting difficult due to the limited color palette. I was messing around and tried adding in a blue colored grass tile, and it looked horrible compared to all the black in the background. I decided to add another color into the mix, brown, and that is what lead me to where I am now.
The game is no longer about a computer world, and I have been able to make many objects now. As for a story, I actually haven't thought on it too much. Mainly been focusing on gameplay and graphics. Hopefully I'll come up with something while working on more cool stuff.
The name Proteus came about strangely. Back when the game was about a computer world, I had Proto stuck in my mind. I then thought of Protios. I googled it and a bunch of foreign language stuff showed up so I translated it and it became Proteus. I looked that up and found out that it was the name of a Greek god of the ocean/sea and one of Neptune's moons. I love the moon and the ocean, and my main color style is blue, so I thought it fit nicely.
You can follow me on Twitter(its in my sig) where I will be giving updates about the game as I go.