Foreword:
Okay. Here we go

again

.
The latest 001 update broke Oculus Origins again. Now, I feel I'd be remiss if I didn't say that Map001 is the best dev resource out there. Period. What we're getting here for

free

blows all the other game makers of its type away. And considering the money they want for full access to their kits as opposed to what 001 wants for their premium access; well, there's no comparison. I love working with 001.

Also,

I should mention

that Oculus Origins has been in the works forever. And the way I strung it together was never the way it should have been done. Even way back when.

So I'm amazed that the engine tolerated it as long as it did

. From here on into the foreseeable future I won't be updating my install of the engine. I'm going for a full and polished game here, so I can't afford update anomalies. But rest assured that at some point Oculus Origins will be completed.
The New Game:
The new game I am working on is called
USI
: Unwarranted Self-Importance.
About:
USI uses, for the most part, the 45 degree map layout and battles are scheduled, again for the most part, to be turn based. The game centers around your character: A 20-something who lives by herself in her small apartment. Nothing too out of the ordinary about her life... A Job she doesn't care for but deals with. School. Loans. Managing what free time she can get. So on and so forth.
The player starts in the characters small apartment. After a bit the player will leave and find themselves put in a situation that results in, for lack of a better term, an outright anger-stroke on the part of the character. (Think about a person in line in front of you at the store with 100 items that's arguing over a .25 cent coupon while you have only one item. That sort of nonsense.) After the 'anger-stroke' the player will alternate between a normal and dark version of both the world and herself. Where things get interesting is when the dark character turns up in the normal world and vice-versa. (The timing of this is yet to be worked out.)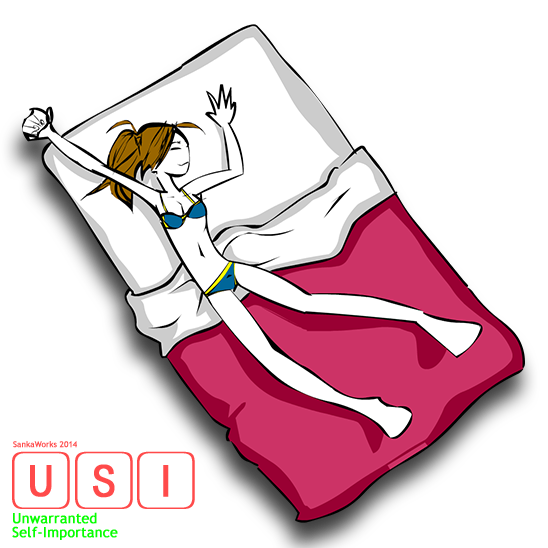 USI will have a distinct visual style.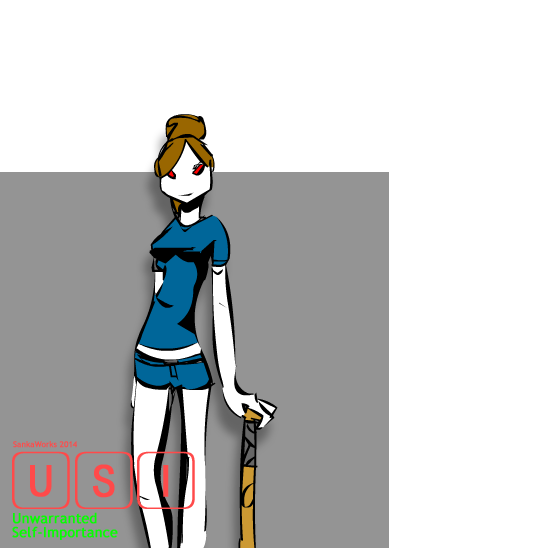 Inspired by the likes of 'Off', 'Homestuck' and the darker bits of 'FLCL'.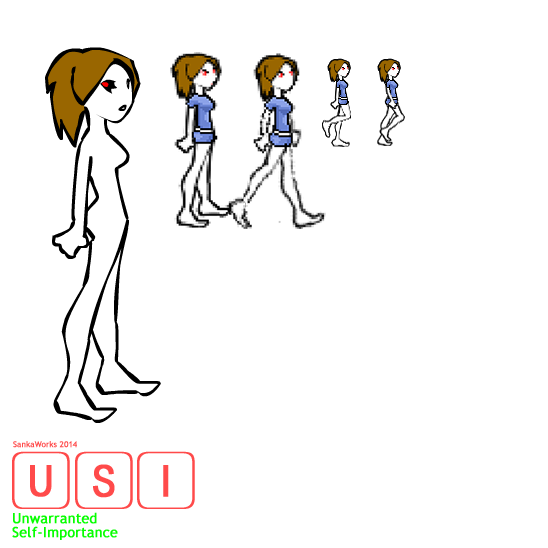 Unlike Oculus the character design and personality came first.
Themes.
USI deals with the asinine sh*t people pull from time to time in everyday life and the main characters reactions to those things free of consequences. Its also about how even though there are no consequences for the characters reactions (Your reactions as the player) there is
always
a price to be paid.
In the world of USI sometimes people get what they're asking for.
Note:
USI should be considered rated M (Or PEGI 18; if you will...). Obviously it's dark. But I would call it an example of black humor in a video-game more than anything else. Also how dark it gets will be up to the player. I'm going to go to a lot of effort to not make it come off outright mean no matter what the player does.