Updated Sept 9th, 2015

So the Oculus name is no more.
For the record I had the original idea before the Oculus Rift. Or maybe I saw it mentioned somewhere and unconsciously used it. Whatever the case, I've changed the name to Project PRIMA. It also gave me an excuse to expand a bit on the game lore. It's a direction I've wanted to take for a long time anyway.
For this posting there's a short game play vid and a little blah blah blah from me. But not too much. It's 2am where I'm at and I need to get to bed. I hope to clean this post up in the next few days or so.


Oculus has been back in the works for a little while; however
there is enough new stuff going on now that it may be worth wasting your time
to read this post. The reasoning for the new thread is that the game has been
so majorly overhauled;

plus

it is going to be renamed.

So whats happened since
0.0.2
and
0.0.3.2
? Well, everything. Went all the way back to "New Game" and started over again. Major highlights are:
*Native 1680 x 1050 resolution supported as well as lower resolutions.
(up from a fixed vertical resolution of 768 in

0.0.2

.) Resolutions higher than 1680 x 1050 will be letter-boxed. (May raise this up to 1920 x 1080 in a future build.)
*Major Graphics overhaul.
Now using true side view platforming rather then the faux 45degree platforming view of

0.0.2

and earlier versions.

0.0.3.2

also brings in crunchier pixel graphics that have really, imho, brought the game forward. Also don't think the effects that made

0.0.2

interesting will be skimped on in

0.0.3.2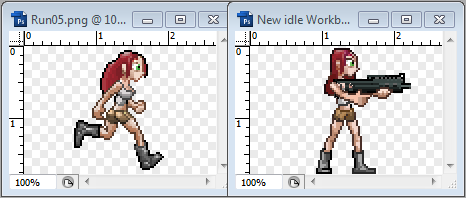 Actual graphic size.
*Melee weapons added.
*Improved development flow.
Doing things in a way that lend themselves to getting this game finished. I declared this awhile back, but before 0.0.3.0 too much bad groundwork had been laid. Man is was hard to let that work go.


*Renaming.
RESOLVED
*Travel system.
How to get to different areas of the game has been on my mind more and more. Either a hub and spoke system or a sort of overhead 3D world-map that could be traversed by vehicle. I think it would be cool if I could lay out the platforming maps so that a player could go on foot from one end of a series of stages to another for whatever reason. (loot, achievements, etc.)

It's late and I have to get some sleep. Been fighting with sprite issues (
mostly
resolved!
) for most of the day. That having been said, the game is at a point where I'll be able to spend some time building the world and sharing some stuff with you guys that will be at least a little fun to look at.

Jan 12th, 2015
: Epic battle with player sprite run+fire animation playing when it should. Victory was mine. Animation now plays.
Jan 13th, 2015
: Started with bullets not firing from holding point in alternate run+fire sprite when triggered. Helps when you populate the shooting animations instead of only the walking animations. Shooting animation populated; holding point set; bullets now firing from holding point.
Jan 15th, 2015
: I'd like to say more work will get done on Saturday the 16th, but I don't really expect to have time till Sunday to work on anything new. (The itinerary below is a loose one. Might start playing with tilesets for upcoming stages. There are two I have in mind specifically; if I do anything with them I'll post it.)
Jan 24th, 2015
: Major breakthrough with player sprite animation! MUAHAHAHA!
Feb 4th, 2015
: More sprite work.
Just
got done with some great Idle/firing animations. Working (trying) to make player sprite come to life.
Feb 9th, 2015
: Even MORE sprite work. Player sprite is 95% done; which is the big push right now. Just a good ducking animation and an idle animation for while she's ducked and that's it. I feel like it should be/could be done by tonight or tomorrow.
If the present momentum is maintained then 0.0.3.3 should be out by the end of February.
<--(lol, this..)
Mar 19th, 2015
: Man, over a month! Re-worked jumping while firing animations and
totally
revamped the way hair moves anytime when in mid air; I'm a lot happier about those things now... Other than that (it was a lot more work than I thought it'd be) We're still where we were Feb 9th. But again, the improved animations are worth it.
Sept 9th, 2015
:
Oculus/Project PRIMA Update 0.0.3.3

IS HERE! You know... finally.
Upcoming
9/9/2015 ___________________________________________
•
Plans concerning

0.0.3.4

Update + Demo